We're here to help.
Our expert sales staff have the knowledge, experience and vision to help you with your High Voltage Transmission requirements.
Contact Us
We design, manufacture and install Gas Insulated Switchgear systems and leverage the compact size and encapsulated metal structure to provide significant advantages to our power utility customers.
Compared to air insulated equipment, GIS provides improvements in operational safety, compact physical size, aesthetic appearance, in close quarters operation and in relative environmental risk.
Breaker performance, across voltages of 69 kV to 800 kV, employs our time-tested single break, pure puffer interrupters. These interrupters are superior to all other alternatives in reliability, duration, simplicity of design and low maintenance costs. We also employ one of two Mitsubishi Electric spring spring mechanisms i.e. the next generation torsion bar spring spring (BM-2) mechanism or the pneumatic open-spring close (AM-38) mechanism. The BM-2 is part of a family that many consider the gold standard of spring spring mechanisms in the Industry.
Finally, we have been able to incorporate fast acting, disconnecting and ground switches, to substantially reduce size and modularity. Mitsubishi Electric has also added options for gang/independent pole operation, single/three phases, test and diagnostic capability and ergonomically designed control access panels.
Advantages of GIS
Occupies about 1/10th the space compared to AIS substations
Lower frequency and severity of service faults
GIS is relatively maintenance free
Can be pre-assembled into modules making installation and commissioning relatively easy
The Mitsubishi Electric GIS solution is perfect for high density, urban environments, where substation expansion is vital in dealing with expanded power demands, as well as programs like vehicle electrification, grid resiliency projects and new commercial/industrial needs. GIS is ideal for the following environments:
Large cities and densely populated areas
Industrial complexes where reliability in power is vital
Mountainous and other hard to reach areas where long term reliability is vital
Underground substations where environmental isolation is important
Offshore substations, where protection from the environment is important
HVDC transmission system terminal substations
Our GIS solution is completely encapsulated and leak free and along with other Mitsubishi Electric provided counter measures, can provide a high security profile to any substation. It is also perfect for rural and suburban environments seeking a better aesthetic adjacent to high end neighborhoods, or the safest and maintenance free substations, where travel time for operational personnel is an issue. By creating compact customer designs, Mitsubishi Electric can elevate equipment, and can encapsulate all in leak free metal piping.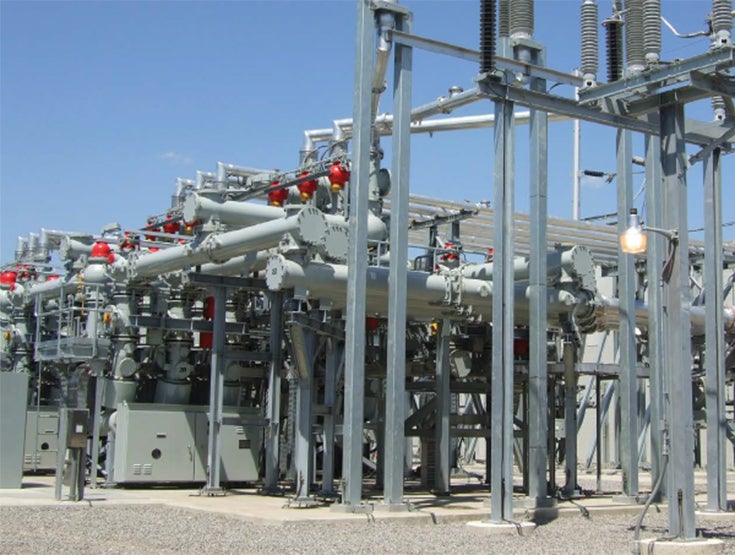 Issues with SF6 gas monitoring?
MEPPI's SF6 Gas Monitoring and Analytics System is an advanced real-time solution that removes the challenges of gas monitoring, tracking and reporting.
Learn More
We're here to help.
Our expert sales staff have the knowledge, experience and vision to help you with your High Voltage Transmission requirements.
Contact Us