We're here to help.
Our expert sales staff have the knowledge, experience and vision to help you with your High Voltage Transmission requirements.
Contact Us
Mitsubishi Electric provides voltage regulation and power factor management solutions for qualitative transmission of AC power.
The generation, transmission and distribution of power is constantly challenged to ensure power supplied is transported and distributed from point A to point Z, without loss and with optimized network integrity. To enhance controllability and increase power transfer capability, Mitsubishi Electric provides power utilities, industrial applications, gas & mining applications and long-distance power transmission with high quality voltage control and power factor technology.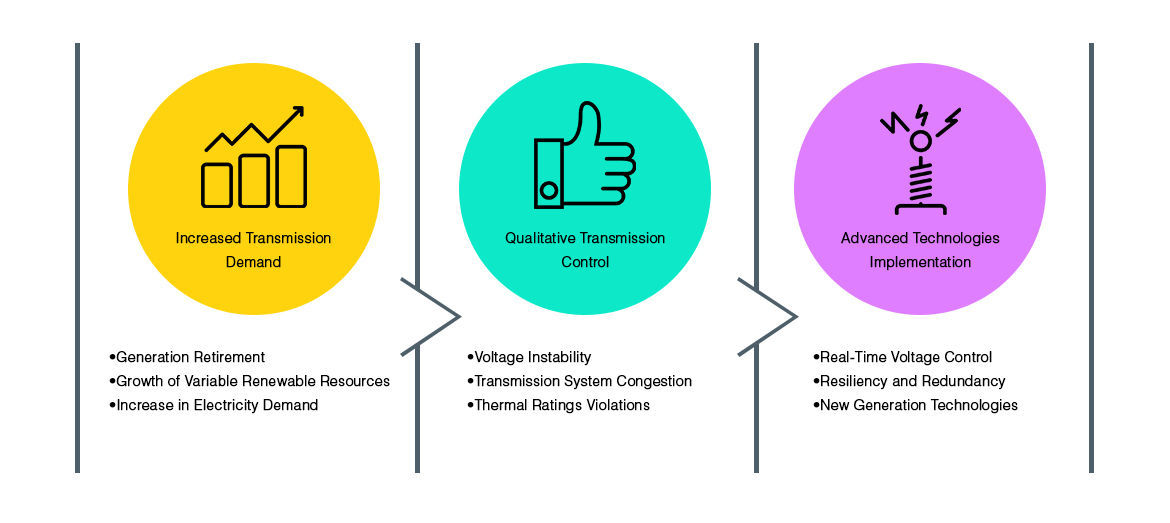 Today's power grid is under mounting stress as utilities grapple with the rapid retirement of coal power plants, prevalence of renewable energy sources, and load growth into new areas. This combination of load growth supplied by intermittent sources of electric power can create unstable voltage conditions that constrain power system operation. To support these challenges, we provide ongoing leadership in the development of FACTS technology.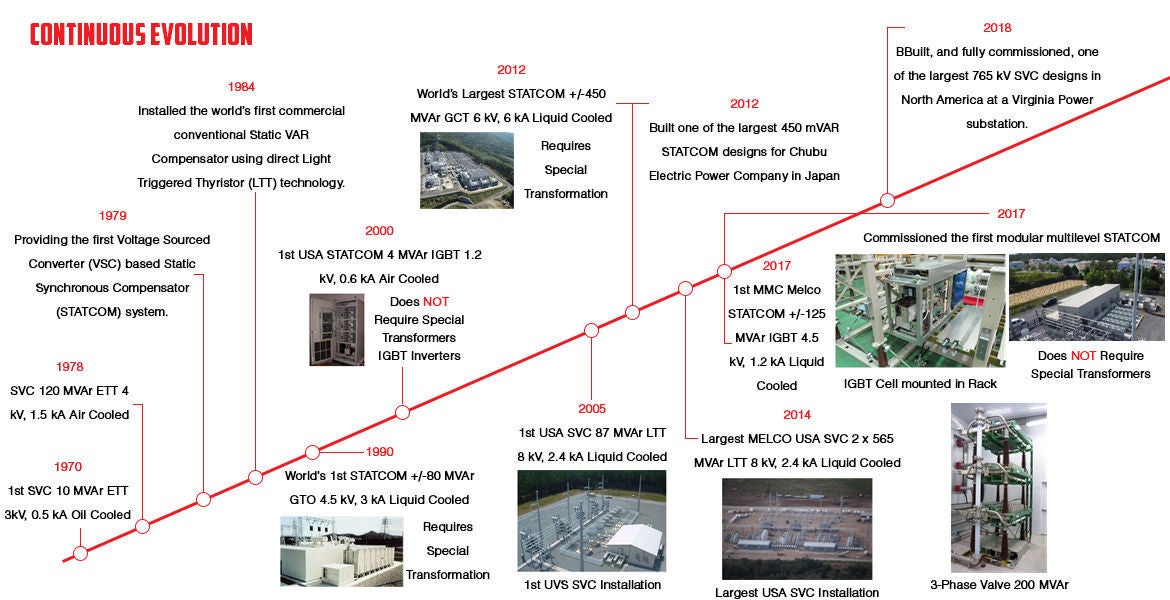 Advanced power electronics systems like Static Synchronous Compensators (STATCOM), Static VAR Compensators (SVCs) and Fixed Series Compensators (FSCs) have automated the process for robust and reliable operation. These solutions stabilize the power system voltage by balancing the supply and demand of reactive power. This results in a tremendous improvement in the overall operation and performance of the transmission system.
Mitsubishi Electric has the equipment solutions and expertise to handle a wide range of voltage regulation, power factor control and switching required to ensure the power is precisely delivered to meet the client's specifications and needs:
Thyristor valves to control the inductance and capacitance applied to the system.
Fixed capacitor harmonic filters used to mitigate harmonics generated by the TCR branch(es).
Coupling transformers used in conjunction with the thyristor valves.
Valve liquid cooling systems used for large substation temperature control.
Station control systems using a LINUX-based operating system to control all ancillary equipment throughout the substation.
STATCOM systems using gate commutated turn-off (GCT) thyristors, which eliminate additional components, wiring and snubber circuits; and result in lower total cost of operation.
AC to DC inversion systems ranging from high to medium voltages.
Customers considering our voltage control and power factor technology do so because they are seeking a solution to optimize power delivery (managing network reactive power), to ensure network stabilization with (consistent inductive and capacitive properties), to accomplish this with minimal capital expenditure, and to often achieve this in the minimal physical footprint (preventing the need for additional transmission lines or substation expansion). Mitsubishi Electric provides turnkey designs including:
Professional and certified civil, electrical, and structural design and engineering.
Design and construction of foundations, steel structures, and buildings.
Professional project management and construction resources.
Professional and certified system testing and commissioning services.
We're here to help.
Our expert sales staff have the knowledge, experience and vision to help you with your High Voltage Transmission requirements.
Contact Us