We're here to help.
Our expert sales staff have the knowledge, experience and vision to help you with your Breaker Services requirements.
Contact Us
Mitsubishi Electric's SSC controls circuit breakers to switch optimal phases of system voltages or system currents.
In closing or opening of circuit breakers, switching transients such as high inrush currents or overvoltages may cause damage to system equipment or cause a disturbance in system voltage for normal operations. Our Synchronous Switching Controller can control circuit breakers to switch the optimal phase of system voltages or system currents in order to minimize switching transients.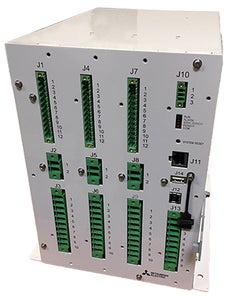 Advantages
Reduction of switching transients - The SSC can reduce various switching transients that can cause serious damage to equipment dielectricaly or mechanicaly.
Stabilization of system voltages - The SSC can reduce system voltage disturbance that are caused by high inrush currents of capacitor or transformer closing.
Prolongation of equipment life time - The SSC prevents wear of circuit breaker's contacts that can be caused by high inrush or re-ignition currents of capacitor of reactor switchings.
Cost reduction against conventional practice - Usage of the SSC is a cost effective alternative to conventional surge reduction devices, i.e. closing resisters or surge arresters. Elimination of closing resister and reduction of insulation level can be attained by the SSC.
Functions
The SSC has various functions that can make field operations easy and effective.
High reliabilities - The SSC uses 32 bit CPU applied widely for digital relay units in transmission system.
Record of waveform - The SSC measures system voltages and currents as well as contact position at each operation. This data can be downloaded and viewed using a laptop computer to review results of inrush currents and surge voltages.
Memory storage - The SSC has memory storage to record the ambient temperature, control voltage, closing/opening time for past 100 operations, current and voltage waveform, and interrupter stroke for past 48 times. It is easy to adjust maintenance styles for each utility.
Self diagnostics - Self-monitoring function of the SSC itself and external devices such as stroke sensors and temperature sensors provide high reliability.
Operating Algorithm
The SSC has a reliable algorithm to achieve high accuracy and high speed in synchronous control. We offer high accuracy control with a high performance 32 bit CPU used widely for digital protection relay units in transmission system.
Compensation of circuit breaker operation - High accuracy operation of circuit breaker can be attained with operation time compensation, regarding the ambient temperature, control voltage, and past operating time.
Minimum process time - All time phase detection of system voltage and current as well as evaluation of operating time can shorten the process time in controlling of circuit breaker.
Optimizing of control target - Optimal control target, achieved by further investigations of dielectric and mechanical characteristics of the circuit breaker, can provide high reliability in synchronous switching control of circuit breakers.
Firmware:
Current SSC-SP1 Firmware Version: Current SSC-SP1 Firmware Version: C
Current SSC-SP1 HMI Version: 1.03
Current SSC-TR1 Firmware Version: H
Current SSC-TR1 HMI Version: Tr.1.20E
Latest SSC-02B (Discontinued) Firmware Version: S
Latest SSC-02B (Discontinued) HMI Version: 2.18bE

For a copy of the latest HMI version for your Synchronous Switching Controller, contact Customer Service at 1-800-624-7425 or HVSDCRTService@meppi.com
Reliable, Secure and Sustainable Energy Systems
Energy systems to power a safe, sustainable, and secure future
Providing inspection, maintenance, upgrades and service for energy power systems
Turnkey engineering, design, logistical and project management solutions
We are here to help!
Whether you have questions about our products, services and capabilities or have another concern or inquiry, our team is here to help.
Contact Us