We're here to help.
Our expert sales staff have the knowledge, experience and vision to help you with your Power Generation requirements.
Contact Us
The Control Rod Drive Mechanism Control System (CRDM-CS) commands and powers the control rod grippers that position the control rod cluster in the reactor core.
The Mitsubishi Electric CRDM-CS is implemented with the digital nuclear instrumentation and Control (I&C) platform MELTAC®, and is designed for ease of maintainability, and provides highly reliable operation.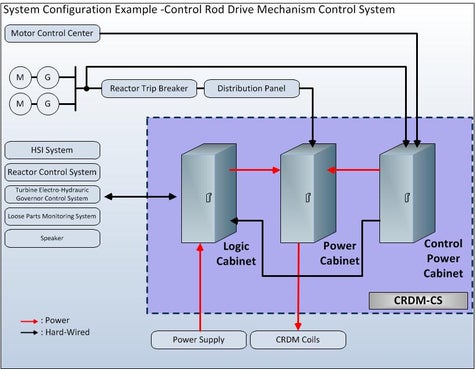 System Configuration
The Mitsubishi CRDM-CS is composed of the logic cabinet, power cabinet and control power cabinet. The CRDM-CS drives the control rod cluster by receiving manual commands from the operator or automatic control signals from the reactor Control System, in predetermined sequences.
Logic Cabinet: Receives signals from the reactor control system and the main control room, then selects the proper control rod cluster and sends rod insertion or withdrawal signal to the power cabinets.
Control Power Cabinet: Conditions the power from the Motor-Generator (M-G) sets for the logic cabinet and power cabinets.
Power Cabinet: Receives the control signals from the logic cabinet and supplies the specified current to the CRDM coils of the control rod cluster to be moved.
System Features
The Mitsubishi CRDM-CS has the following features to establish high reliability and maintainability.
Insulated Gate Bipolar Transistor (IGBTs) are employed in the coil driver circuitry of the power cabinet to reduce power consumption and to eliminate the partial drain issues of similar thyristor circuits.
The double gripper (stationary and movable) hold sequence of the control rods, prevents the rods from unexpected dropping due to signal failures
The modern electronic circuitry design reduces the overall component count thereby reducing spare parts inventory and maintenance costs.
The power cabinet consists of drawer type units which contain modularized circuit assemblies. These assemblies utilize pluggable electrical connectors instead of terminal units to increase maintainability of the coil driver circuits.
Complete Component Line
In addition to the control system, Mitsubishi provides​ all equipment related to the CRDM such as Motor Generator set (MG-set), Bus-duct, and CRDM-coils.
Reliable, Secure and Sustainable Energy Systems
Energy systems to power a safe, sustainable, and secure future
Providing inspection, maintenance, upgrades and service for energy power systems
Turnkey engineering, design, logistical and project management solutions
We're here to help.
Our expert sales staff have the knowledge, experience and vision to help you with your Power Generation requirements.
Contact Us