We're here to help.
Our expert sales staff have the knowledge, experience and vision to help you with your Power Generation requirements.
Contact Us
The RMS monitors dose rates and radiation levels and nuclear power plants.
Mitsubishi Electric provides the following types of monitors:
Area Monitors for continuously measuring the area dose rate.
Process monitors for continuously measuring the radiation level of liquid processes and offsite discharges. These monitors provide radiation level outputs to the RMS cabinets to main control room.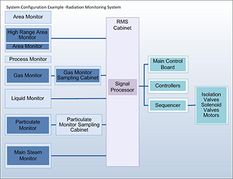 System Configuration
The Mitsubishi RMS is composed of the RMS cabinet, area monitors, and process monitors.
RMS Cabinet: Performs logic on the detector outputs and convert them to radiation level signals. Generates alarms and activates control actions when the radiation level signals exceed the predefined level.
Sampling: Takes samples using sample line pumps, valves, piping and local sequential logic in the cabinets, and provide them to the monitors that continuously measure radiation levels in the air and liquid.
Monitor: Measures the dose rate of plant areas and the radiation level of the process streams to transmit proportional outputs (pulse, and current signals) to the RMS cabinets.
System Features
The Mitsubishi RMS has the following features to establish high reliability and maintainability.
The process monitors have integral radiation shields that protect them from ambient radiation which ensures accurate indications.
Each monitor contains a built-in a check source, to that operability of the monitors can be verified through the RMS cabinets.
Sampling equipment includes sample lines pumps and valves for ease of maintenance.
The RMS cabinet contains plug-in modules that process channel signals. Operation, monitoring and maintenance are performed from the front side of the cabinet.
The RMS cabinet has a built-in test pulse generator or current signal generator to calibrate modules and check alarm set points during periodic inspections.
Calibration System and Diagnostic System
Mitsubishi also provides a calibration system and diagnostic system for the RMS.
Calibration System: Checks the status of each monitor, calculates the detection efficiency, the average of detection efficiency, and the deviation of detection efficiency of each monitor through radiation measurement, and confirms that the measurements are within the permissible range.
Diagnostic​​​​ System: Checks the status of RMS, and identifies system fault locations through RMS input and output signals monitoring.
Reliable, Secure and Sustainable Energy Systems
Energy systems to power a safe, sustainable, and secure future
Providing inspection, maintenance, upgrades and service for energy power systems
Turnkey engineering, design, logistical and project management solutions
We're here to help.
Our expert sales staff have the knowledge, experience and vision to help you with your Power Generation requirements.
Contact Us